Stuffed tomatoes
294
21.09.2011 14:31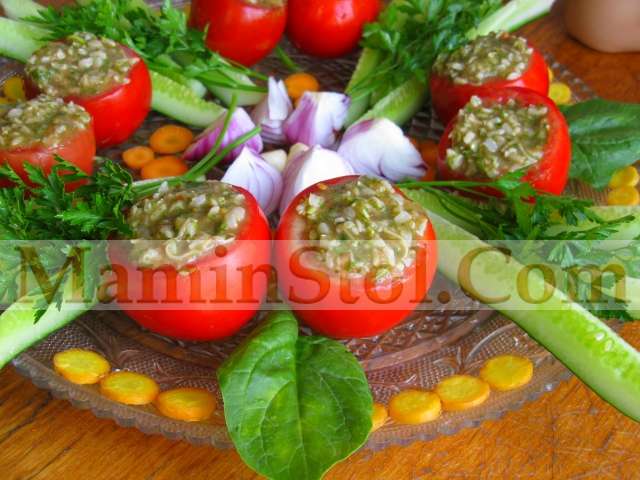 All mothers dream that their children will eat well, not only quantitatively, but also qualitatively.. Without a doubt, the best sources of vitamins and minerals are vegetables and fruits, as well as greens - therefore, we will try to enrich our child's table with these products, inculcating healthy eating habits and helping him grow healthy, beautiful and happy.
Let's prepare a light dinner with lots of greens and vegetables - thanks to brown rice, the dish will be hearty and attractive enough even for those kids who are skeptical about vegetables.
Essential Products:
and tomatoes. 8pcs.
Brown Rice 0,5St.
parsley dill 0,5 beam
spinach 0,5 beam
zucchini young 0,5pcs.
garlic 1-2 Зубка
soy sauce 2hours.II
olive oil 2hours.II
Method of Preparation:
Wash the tomatoes, cut off the top and carefully remove the middle of each (slicing with a knife and picking the pulp with a spoon). Put half the flesh in the refrigerator - we don't need it.
Boil brown rice as described here.
In the remaining tomato pulp, put all the greens and garlic and use a blender to turn into a homogeneous mass. Then add cooked and chilled rice, zucchini, grated on a fine grater, soy sauce, oil - mix and stuff empty tomatoes.
Serve with bright slices of vegetables and herbs, let the child get acquainted with new tastes and maybe he will choose and fall in love with something that you could not think of!
Bon appetite!
Your comment will be published on behalf of '
Guest
'.
Login
here!