Barley porridge with vegetables
416
07.09.2012 17:45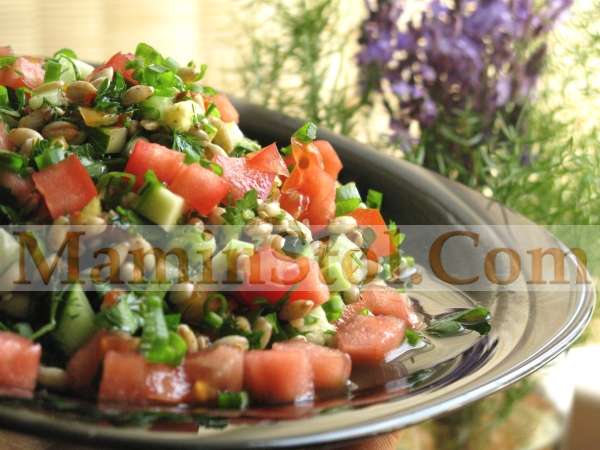 Recently discovered "living" pearl barley - it turns out to swell beautifully in water and even peck in less than a day, which increases its value many times!
It tastes quite soft, lively grains that combine perfectly with vegetables - it turns out a very tasty, hearty and healthy lunch!
The best combination of cereals/vegetables in my opinion is 1/2 - not very heavy and juicy enough!
By the same principle, excellent porridge from red lentils or buckwheat is obtained!
God bless you!
Essential Products:
Pearl barley 1St.
and tomatoes. 3-4pcs.
Cucumbers 1-2pcs.
squash 0,5pcs.
BELL PEPPERS 1pcs.
green onin).. 0,5 beam
greens to taste 2 beam
adjika sauce 1St..II
dressing to taste (sour cream, vegetable oil)
Method of Preparation:
Soak in the evening 1 a glass of pearl barley (rinsing thoroughly) Lat. Quantum satis - the amount which is enough.
In the morning we change the water and leave it before dinner in new water - the grains will swell and hatch.
Then we drain the water and add to the finished cereal all the vegetables, cut into small cubes, onion and other herbs to taste (I just have parsley and dill, - arugula gives an amazing taste, spinach and all kinds of leaf salads are great).
Adding adjika or just garlic and mix everything.
If necessary, salt, and you can also fill with cold pressed vegetable oil, or homemade sour cream (who has access to happy homebirds) and serve immediately.
Bon appetite!
Your comment will be published on behalf of '
Guest
'.
Login
here!