Bulgarian sausages with horseradish
98
17.03.2012 17:50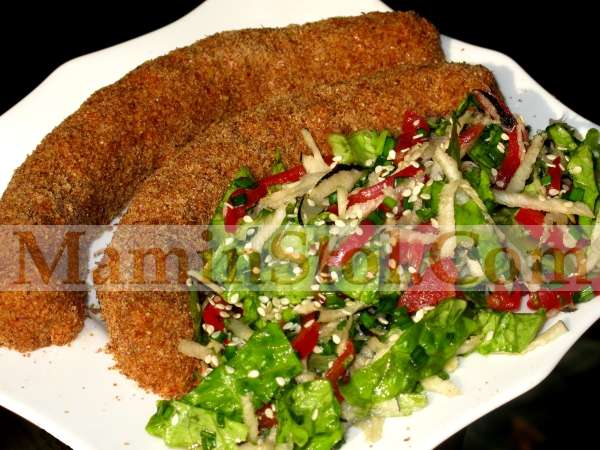 Bulgaria is called the country of vegetables - their cuisine is really different from all the others by the use of a large number of vegetables, and such raw-food sausages with a lot of bell pepper completely correspond to the traditions of Bulgarian gourmets!
Try it - delicious juicy sausages with horseradish are good both on their own and paired with a green salad!
God bless you!
Essential Products:
BELL PEPPERS 400gr
carrots 300gr
garlic 3 a tooth
Tomato 1pcs.
almonds 200gr
1 horseradish root 50gr
Flaxseed 1St.
Dill 1 hair bun
celery root (parsnip) 50gr
salt 1,5hours.II
soy sauce 4St..II
ground nutmeg 1hours.II
Coating::
ground flax seed 2/3St.
ground ginger 0,5hours.II
salt 0,5hours.II
black pepper ground pinch
Method of Preparation:
Almonds must first be soaked on 4-5 hours, then drain and use the prescription.
All ingredients for sausages, except flax seed, are placed in the combine (arbitrary pieces) and grind into small crumbs. Flax seed must be ground in a coffee grinder and then mixed in minced meat..
Cooking breading: in a coffee grinder, grind flax seed into flour, add ginger, salt and black pepper (cumin can also be added to taste), mix and sprinkle on a cutting board.
We form small sausages (7-10cm long, 2-310 cm diameter) and roll them breaded. Served with a salad with lots of herbs.
Bon appetite!
Your comment will be published on behalf of '
Guest
'.
Login
here!