Stuffed peppers with nuts
649
27.07.2011 17:14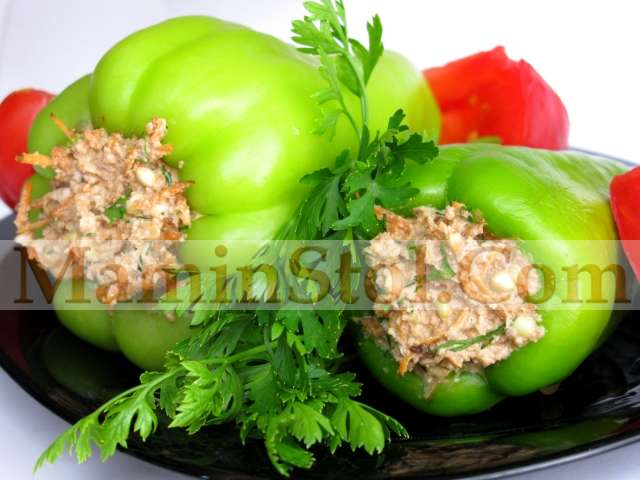 Try a new and familiar dish: fresh, juicy, bright and stuffed with vegetable living proteins!
As far as I remember myself, I always chose only the stuffing from traditional stuffed peppers, and later I didn't make such a dish at all...
BUT SUCH pepper leaves with a bang whole!!! Incredibly useful and very tasty for a raw vegetable dish - this pepper will bring you only health, and only beauty, and only satiety and strength - nothing harmful or useless.
Count on two per serving - the peppers are VERY satisfying. God bless you!
Essential Products:
Sweet chili 10-15pcs.
raw sunflower seeds 350gr
raw walnuts 350gr
garlic 4-5 Зубка
Dill 0,5 beam
parsley 0,5 beam
carrots 2pcs. (150gr)
Olive oil 2St..II
soy sauce 4St..II
Salt and pepper according to taste
Method of Preparation:
Pre-clean and soak in cold water nuts and seeds in one bowl on 2-3 hours.
Leave some water in the nuts and seeds (so that it remains two times smaller in volume than nuts and seeds combined) and use a blender to mash them.
Finely chop the dill and parsley with a knife, grate the carrots on a fine grater, crush the garlic and add all this to nuts and seeds. Stir and add oil and soy sauce, salt and ground pepper to taste.
Remove the tails with hearts from each pepper, not cutting them in half, but leaving them whole. Then wash and fill with a teaspoon of finished nutty filling.
Serve with juicy tomatoes - it's tastier!
Bon appetite!
Your comment will be published on behalf of '
Guest
'.
Login
here!