Adjika spicy
2516
08.01.2011 05:03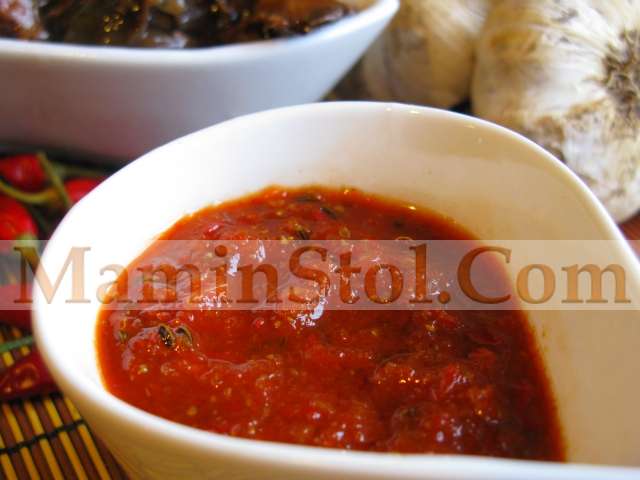 Real adjika (translated from Abkhazian simply "salt") - spicy and aromatic mass, pasty consistency of red pepper, garlic, herbs (dried and green) and salt. Her homeland is Abkhazia.
This mixture is too spicy and burning, so in order to take care of the delicate walls of our stomach, we will replace part of the hot pepper with sweet paprika.
Work from start to finish ONLY WITH RUBBER GLOVES, otherwise a hand burn is guaranteed.
Essential Products:
BELL PEPPERS 600gr
hot red pepper 400gr
garlic 0,5kg
salt 3/4cups (incomplete glass)
Seasoning mix: 0,5cups
Method of Preparation:
Wash bell peppers, clean and grind with a blender (if you use a meat grinder, then skip at least three times). Then the same with garlic and last but not least with hot pepper: be sure to open the windows in the ventilation mode, otherwise a burn of the nasopharyngeal mucosa is possible.
All the worst is over, now just add salt and three types of dry seasoning (total volume in half a glass): coriander, dill seeds and suneli hops. Mix, put in clean jars and send to a cool place (basement balcony).
It is stored very well and is an excellent antiviral agent with great taste for us all winter.!
Bon appetite!
Your comment will be published on behalf of '
Guest
'.
Login
here!