Spelled cookies
1246
08.12.2013 22:58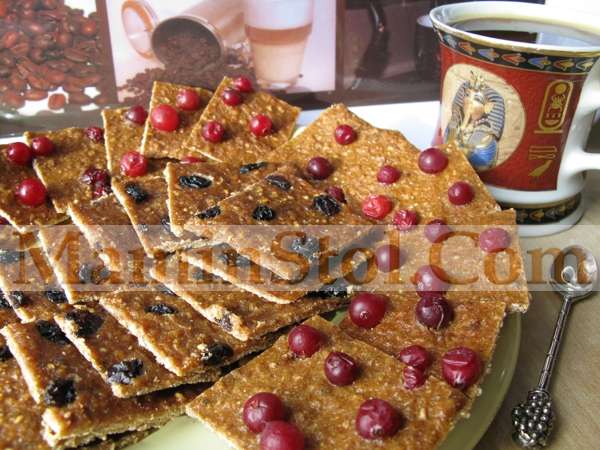 Live spelled sprouted cookies (wild wheat) - most valuable health product and delicious treat for everyone!
Cookies without harmful ingredients (type of sugar margarine) and without heat treatment - similar to crackers with raisins. It can be made with any whole berries and raisins..
Eat please.!
Essential Products:
Spelt 3St.
water 3St.
dates 50pcs.
bananas 2pcs.
raisins 1St.
Method of Preparation:
Soak three glasses of spelled in plenty of water on 6-8 of hours (I soak from morning to evening). Then drain the water, preferably decomposed in a thinner layer (for example, on a tray) and leave on 12 hours for punching (I leave for the night and do the cooking directly in the morning).
Grind in the blender bowl half the spelled spelled with 1 a glass of water and one banana (grind better) to a more or less uniform state (without fanaticism).
Pour the dough into a deep bowl.
Then repeat the same procedure.: grind the remaining spelled with 1 a glass of water and one banana.
We connect the dough.
In a blender bowl, mix 1 "Stakan vody" + all dates to the state of mashed potatoes and add to the dough. Mix.
Thick layer (before 1cm) spread the resulting dough on dehydrator sheets (or oven pan), then sprinkle evenly raisins (well washed in warm water), slightly drowning it in the test with your finger.
Dry in a dehydrator at a temperature 38-40 degrees, or in the oven at the same temperature, approximately 15-20 of hours.
If you add to the dough 4 St.. spoons of kerob (or cocoa), you'll get great chocolate chip cookies.
Bon appetite!
Your comment will be published on behalf of '
Guest
'.
Login
here!