Coconut Carrot Soup "vermicelli"
57
28.12.2011 16:33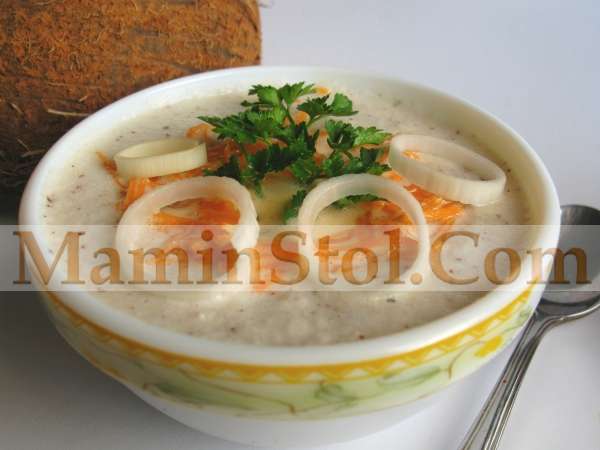 This soup is slightly sweet and VERY hearty - almost everyone likes the original taste, and juicy carrot "vermicelli" adds a bright note and taste and vision!
From the specified number of ingredients, four complete servings for children and three for adults are obtained.
Essential Products:
coconut 1pcs.
water 3-4St.
carrots 1pcs.
parsley 1 hair bun
soy sauce 3St..II
celery root 50gr
garlic 1 clove
salt 2/3hours.II
ground black pepper 1/3hours.II
leek
Method of Preparation:
Peel coconut, cut into large pieces and grind together with two glasses of water in a blender bowl until small crumbs (do not whisk for a long time, otherwise coconut oil will separate and there will be no uniform base).
Then we add water, celery root, garlic, salt, pepper, soy sauce and grind for another half minute.
Pour the soup into the pan, add finely chopped parsley, carrots, grated on a fine grater (long thin "vermicelli") and mix.
When serving, sprinkle with leek rings - it gives a slight pungency that even small children take well, and adults can also add a good handful to taste.
Eat please.!
Bon appetite!
Your comment will be published on behalf of '
Guest
'.
Login
here!