Borscht "Alive"
968
12.11.2011 17:31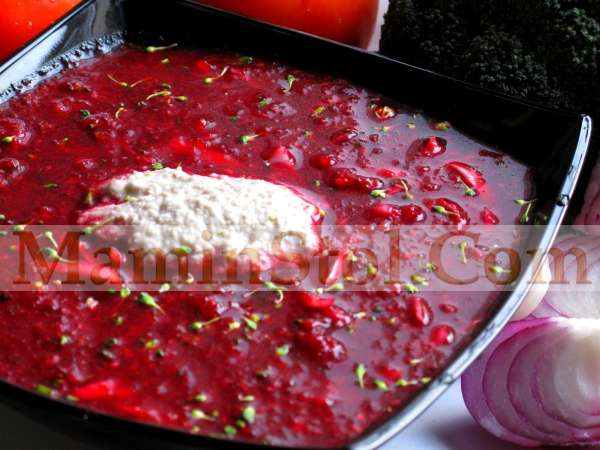 When you first try this borsch, it strikes its resemblance to "boiled" fellow however "living" the option clearly has an advantage in taste, in usefulness, and in ease of preparation. The value of such raw borsch is indescribable: solid vitamins, trace elements, energy and pleasure!
God bless you!
Essential Products:
beet 1pcs. (2 Bolshaya)
carrots 2-3pcs. (secondary)
cabbage 300-400gr
garlic 2-3 Зубка
and tomatoes. 2-4pcs.
greens to taste 2 beam
salt to one's taste
BELL PEPPERS 1-2pcs.
Is the water nice? 2,5 litres
fruit vinegar (Apple) 3St..II
Sauce "sour cream"
sunflower seeds 1St.
water 1St.
garlic 1 clove
Lemon juice 1St..II
salt to one's taste
Method of Preparation:
Cut beets and carrots into large cubes (or coarse grater) - put in a blender bowl, add tomatoes (fresh or thawed), large pieces of bell pepper and turn into a smoothie (adding enough water, about one liter).
Add the chopped cabbage to the resulting mass (any to your taste, I have white broccoli), crushed garlic, chopped herbs, fruit vinegar (or 3 St..l lemon juice). Dilute with warm water (not above than 42 degrees) to the desired density and salt to taste. You can add spices: nutmeg, curry, oregano.
"Sour cream for borsch": we turn all the ingredients for the sauce with a blender into mashed potatoes, you can add more seeds for density.
Serve borsch with sour cream, sprinkled with herbs - eat to health!
Bon appetite!
Your comment will be published on behalf of '
Guest
'.
Login
here!