Sesame milk
707
16.03.2012 14:52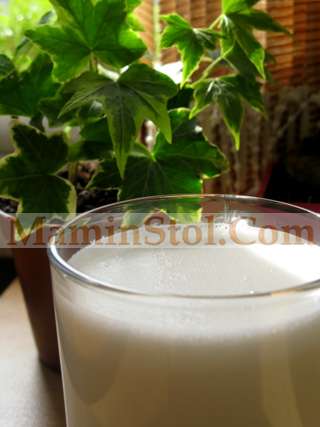 Sesame is an excellent source of protein, fiber, polyunsaturated fats, vitamins. (especially E and group B) and minerals (in particular, calcium champion). This is a valuable dietary food product that favorably affects the health of any person - to ignore it in your diet is simply criminal, and to learn how to cook simple and tasty dishes from it is not difficult at all!
The fat content of sesame milk can be adjusted by adding the right amount of water to taste. This drink is very satisfying - be healthy!
Essential Products:
Sesame 1St.
water 2St.
Method of Preparation:
Sesame seeds, together with clean cool water, beat in a blender bowl until smooth (3-5 minutes).
Then filter through a sieve (or double gauze), we use cake either in sweets or for cooking of cakes, cupcakes, consisting of cookies, cakes either for sauces or as a component bread, pate and t.e.
Next, the finished milk is used depending on the purpose.: either sweetened with honey (or Jerusalem artichoke syrup) drink as a sweet drink, or add dill, garlic, cucumber, etc..e. and whip the salty cocktail.
You can grind several dates as a sweetener in already filtered milk - very tasty!
In any case, we get great quality (taste good) a chic drink for our health!
Bon appetite!
Your comment will be published on behalf of '
Guest
'.
Login
here!