Stuffed bananas
69
18.04.2011 05:22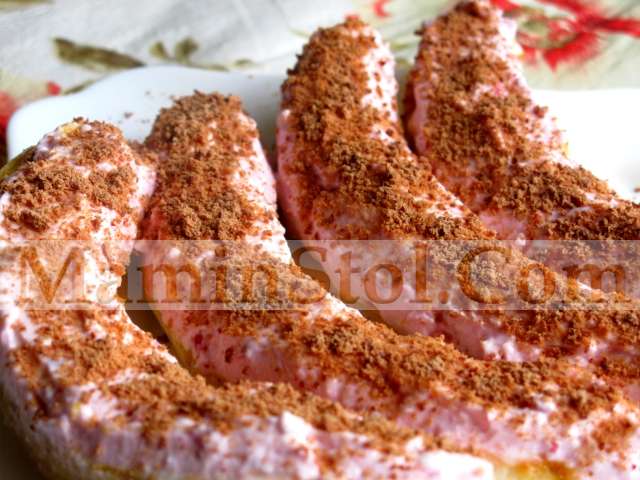 Another option for serving berry curd: directly in the bananas themselves. We enrich cottage cheese with cold pumpkin jam (pantry of vitamins) and fresh berries, and lightly sprinkle with grated chocolate - breakfast turns out to be hearty and very tasty, and most importantly fresh, lively and multivitamin!
Depending on the age of the child, you can change the composition "Fillings", for example, add nuts or remove chocolate and t.e.
There are such bananas more convenient with a spoon.
Essential Products:
bananas 2pcs.
cold pumpkin jam 4hours.II
red currant berries (or other. fresh or frozen berries) 100gr
cottage cheese 150gr
cream (sour cream) house. 1-2St..II
sugar 1St..II
chocolate candy 1pcs.
Method of Preparation:
Wash, peel and cut the bananas in half. Use a teaspoon in the middle along the entire banana to make a small indentation (longitudinal fossa), choosing surplus pulp (you can put them in the curd or eat yourself).
Put sugar, cream and berries in the curd and with the help of a blender we turn everything into a homogeneous mass.
Spread in each banana 1hours. spoonful of cold pumpkin jam (Instructions. here), then spread the curd mass in a slide and sprinkle with grated candy or chocolate.
Breakfast is ready.!
Bon appetite!
Your comment will be published on behalf of '
Guest
'.
Login
here!