Stuffed Apricots
259
29.04.2011 06:28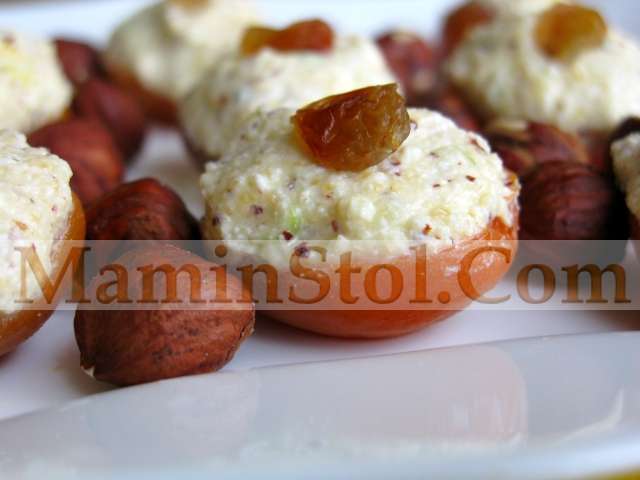 Another delicious and healthy breakfast for kids!
Children eat it excellently, and this is understandable, because in one dish the most delicious and valuable foods are brought together!
In the fresh apricot season, such a breakfast will be just a fabulous start to the day.! And in the winter-spring period, you can use prepared apricots in own juice.
Don't worry about the kids getting hungry after such a breakfast.: some nuts are already a very satisfying element for the body, and even cottage cheese with cream, raisins and apricots themselves will replenish energy reserves for a growing organism for a long time.
Forget breakfast cereals and stay healthy!
Essential Products:
Apricots 15-20pcs.
cottage cheese 150-200gr
raisins 1 handful
hazelnut 1 handful
apple 1pcs.
cream (sour cream) 3St..II
cold pumpkin jam 3St..II
Method of Preparation:
Since now is not the fresh apricot season, I used apricots in own juice.
Halve the apricots and remove the seeds. In cream, put cream or sour cream, an apple with a peel (diced), raw hazelnuts and beat well with a blender until smooth.
Add pumpkin jam to the curd (pantry of vitamins), mix and start half the apricots with the curd.
We put a twist on top for each half!
Bon appetite!
Your comment will be published on behalf of '
Guest
'.
Login
here!