Orange curd
374
29.03.2012 15:34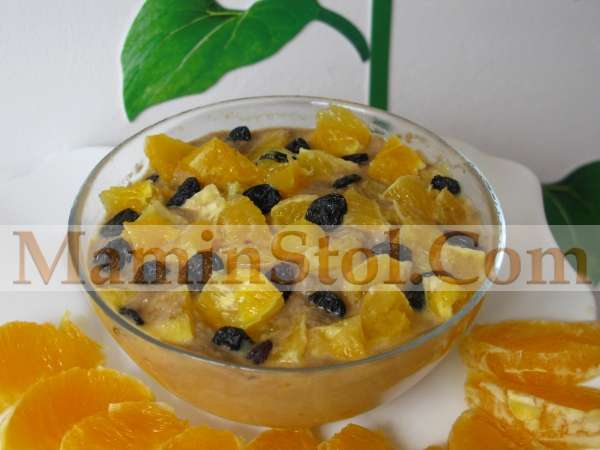 Try a very delicate and delicious orange curd with sliced banana and raisins.!..
I'm sure you will cook it more than once!
Ingredients are based on 4 servings for adults.
Essential Products:
sunflower seeds (raw) 2St.
water 2St.
raisins 50gr
orange 4pcs.
dates 150gr
apple 1pcs.
lemon 1pcs. (juice)
bananas 4pcs.
Method of Preparation:
Seeds can be pre-soaked for several hours in clean water at room temperature, then in a blender bowl with 2-grind me with glasses of water into a homogeneous mass. Add washed and peeled dates and grind again until smooth..
In the ground mass we put an apple without a core, oranges, the juice of one lemon and the last time we carefully grind until smooth.
The resulting curd is laid out portionwise in four bowls and in each we add one (cut into small pieces) banana, mix and sprinkle with raisins on top.
If desired, you can leave one of the four oranges and also, cutting it into slices, sprinkle the cottage cheese on top.
God bless you!
Bon appetite!
Your comment will be published on behalf of '
Guest
'.
Login
here!