Carrot Soup with Olives
412
14.01.2012 09:41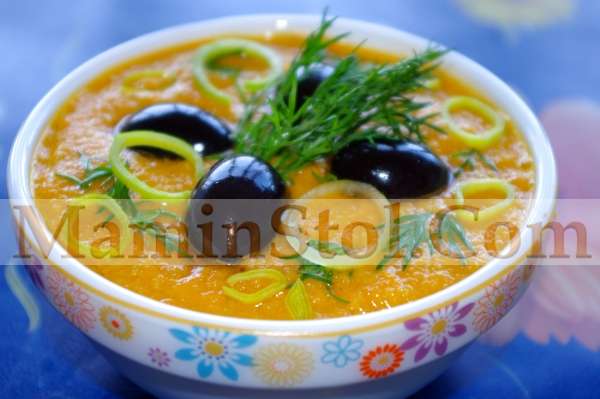 Try a delicious and very healthy raw carrot soup with olives - you and your children will surely love it!
God bless you!
Essential Products:
carrots 2pcs. (large city)
avocado 1pcs.
celery root 50gr
garlic 2 Зубка
Dill 1 hair bun
water 2St.
leek 100gr
seedless olives 200gr
soy sauce 2St..II
Sea 1/3 hours.II
ground nutmeg 0,5hours.II
Method of Preparation:
Using a blender, grind all ingredients except leek and olives into a smoothie..
Cut leek into thin rings, olives can be cut in half, or whole. We mix half the leek in the soup.
Serve the soup, sprinkled with the rest of the leek and decorate with olives.
Bon appetite!
Your comment will be published on behalf of '
Guest
'.
Login
here!