Citrus bouquet
348
12.02.2012 21:25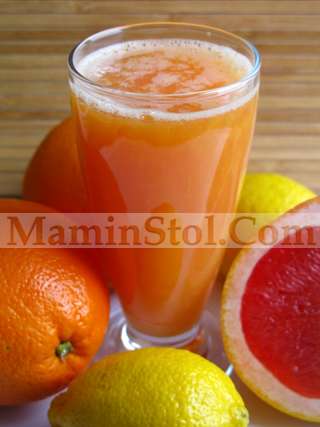 Try the amazing combination of three citrus fruits in one drink.!
As far as I can remember, I never loved grapefruit and could not stand even its smell... But in such a combination it turned out so delicious that this juice immediately became a universal favorite in our family and now we drink it all and with great pleasure!
Most children do not like the bitterness of grapefruit, and you can write books about its health value.! And in such a citrus bouquet this bitter fruit goes with a bang (Проверено на себе! :))!
Essential Products:
orange 2pcs.
grapefruit 1pcs.
lemon 0,5pcs.
Method of Preparation:
Using a citrus juice squeezer, squeeze the juice out of the halves of orange, grapefruit and lemon, mix and the magnificent vitamin juice is ready!
So "Cheers"!!
Bon appetite!
Your comment will be published on behalf of '
Guest
'.
Login
here!