Dogwood compote
2871
25.03.2011 07:06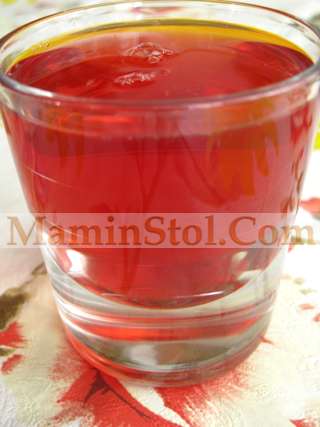 Let's cook a wonderful stewed fruit from a very useful and healing berry - dogwood! It is not for nothing called "omnipotent doctor" - cornel berries contain a lot of glucose, fructose, organic acids, especially malic, nicotinic, tannic, nitrogenous and coloring substances, essential oil, phytancides, vitamins C and P.
Such a drink begins its work already in the oral cavity, carrying out the prevention of possible diseases. Add some valuable grapes to it, thus enriching both the mineral and vitamin composition and the taste of the drink.
This kompotik is not only VERY useful, but also VERY tasty!
Essential Products:
Cornus 500gr
water 3II
sugar 0,5St.
dark grapes 150gr
Method of Preparation:
Rinse the berries well (or defrost) and put in boiling water with sugar.
As soon as the water boils again, let it boil 2 minutes turn off the fire. Cover with a lid and leave the compote to infuse for several hours (to a warm state).
So "Cheers"!!
Your comment will be published on behalf of '
Guest
'.
Login
here!