Hot chocolate white
595
02.04.2011 05:51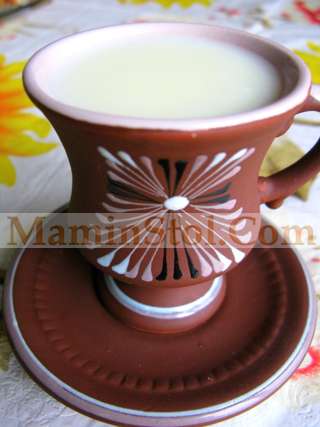 White chocolate does not contain cocoa powder, but only cocoa butter, milk and sugar - therefore it is not addictive, like chocolate with cocoa, and will not contribute to development "chocolate addiction" toddlers. It's just the sweetness you need so much "small motors" to maintain energy balance...
From time to time you can offer them a white chocolate drink as breakfast (with toast or light pastries) - it will fill them with a mass of energy and bring a lot of pleasure!
Essential Products:
milk 0,5 litres
white chocolate 100-150gr
potato starch, 1St..II (with a slide)
Method of Preparation:
Pour milk into a saucepan and set on fire. We leave half a glass of cold milk in a mug and stir the starch in it.
As soon as the milk is hot enough, dip a bar of white chocolate into it and melt it in the milk.
Then pour our milk with starch into it, stirring constantly.
Cook until the mixture thickens for several minutes and turn it off. It turns out a drink similar to milk chocolate jelly - not very thick (can drink), but very chocolate.
Serving such a drink is better a little hotter than warm.
Bon appetite!
And here's another yummy:
Recommend cook it yourself, Its use is intuitive..
Your comment will be published on behalf of '
Guest
'.
Login
here!