Curd Chocolate Cake
334
11.05.2011 06:13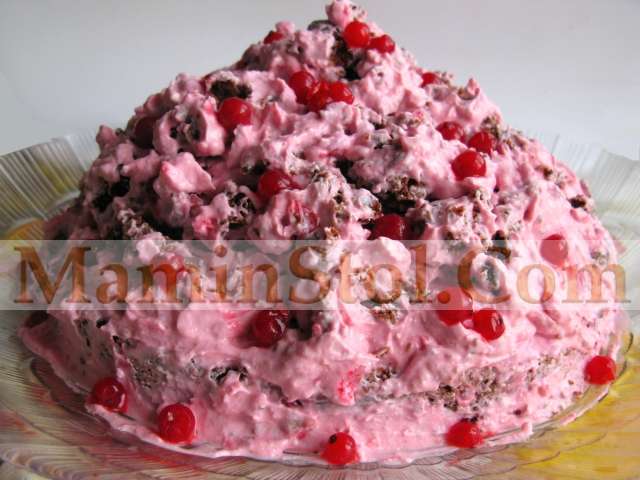 Delicious chocolate cake with delicate curd cream and berries - perfect as a treat for children and decorate the holiday table.
Of course, to your taste, you can use any other berries in the cake or their combination - experiment and create culinary masterpieces for your loved ones!
Essential Products:
For cream::
cottage cheese 500gr
red currant berries 200gr
cream. 0,5St.
sugar 0,5St.
For the dough:
chicken egg 1pcs.
oil grows. 1/4St.
sugar 1St.
flour 1,5St.
Theobroma cacao 3St..II
milk 0,5St.
boiling water 0,5St.
soda ash 1hours.II
Method of Preparation:
First bake a chocolate biscuit: beat the egg in the foam, add the butter and stir. Separately mix sugar with flour and cocoa, add quenched soda.
Add milk to the egg mixture - mix well (or whisk for half a minute with a mixer), then dry the mixture and stir well again. Add boiling water and mix thoroughly until smooth..
Bake with 180 degrees minutes 30 on a flat baking sheet.
During this time we are preparing cream: whip all the ingredients for the cream with a blender (to let the 30-40gr whole currant for decoration).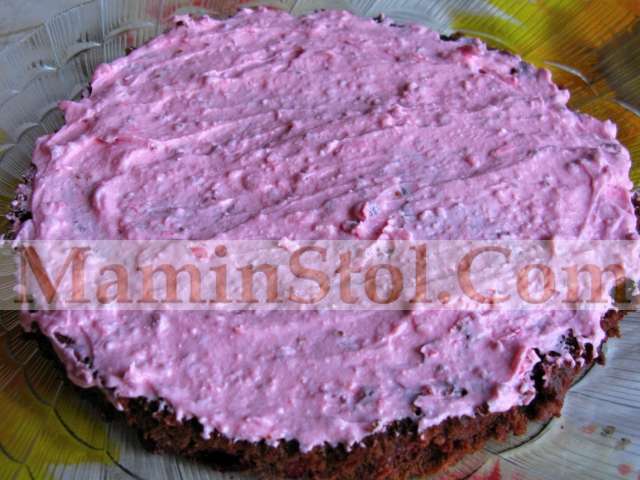 Cool the finished biscuit and use a plate (or other form) cut the base of the cake. Cut the rest of the biscuit into small cubes.
Lubricate the base with cream and spread on it a slice of biscuit, dipping each plentifully into the cream. Chopped walnut can be added if desired..
We decorate the finished hill with whole currant berries. The cake needs to be soaked for an hour and you can eat!
Bon appetite!
Your comment will be published on behalf of '
Guest
'.
Login
here!