Cherry Porridge with Bananas
46
15.05.2011 18:12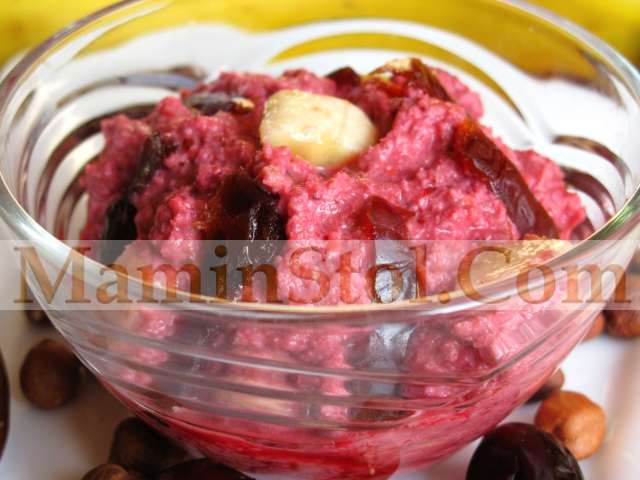 A very satisfying, very tasty and rich in vitamins and minerals live breakfast for both children and adults!
In the berry season, the body is stocked with useful substances, and good housewives do not forget about the upcoming winter, and stock up with live berries, freezing them for vitamin breakfasts and in the winter and spring, when living vitamins and minerals are so badly available!
Cream softens cherry acid well and adds its own unique taste.! The amount of honey vary depending on the acid of the cherry, to taste.
God bless you!
Essential Products:
fresh cherries (or thawed) 500gr
nuts (walnuts, hazelnuts) 200gr
homemade cream 0,5St.
honey, 4-5St..II
bananas 2-3pcs.
dates 2pcs.
Method of Preparation:
Wash cherries, remove seeds (or unfreeze previously harvested berries), put in a deep bowl with juice, add nuts and grind with a blender in a smoothie.
Add cream and honey to the resulting mass to taste, cut into large pieces of bananas. Mix everything and put in portioned plates, decorating with stripes of dates.
Bon appetite!
Your comment will be published on behalf of '
Guest
'.
Login
here!