banana
554
05.02.2011 06:15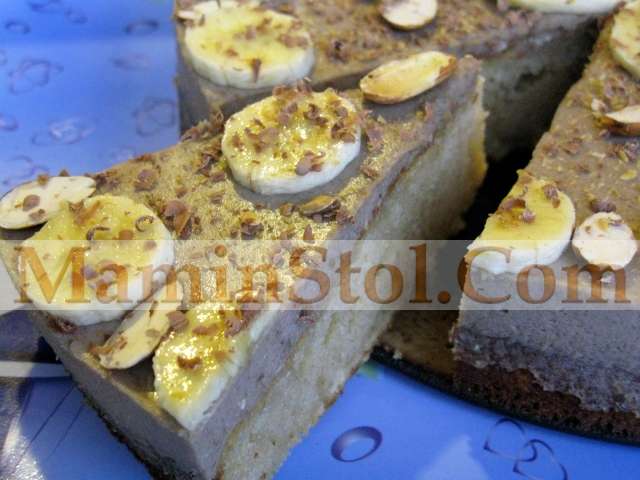 Here is a banana cake you can cook for small lovers of bananas. Along with the pulp of their favorite fruit, children will receive a large amount of potassium, vitamins C, B and E and other trace elements as well as serotonin - "happiness hormone", that will help your baby be in a great mood!
Essential Products:
chicken egg 3pcs.
sugar 1,5St.
разрыхлитель 1 bag (18gr)
Lard 70gr
RUSK 100gr
Kefir (простокваша) 2St.
soda ash 1hours.II
flour 2St.
For cream::
bananas 3-4pcs. (400-500gr)
sugar 100gr
chicken egg 2pcs.
cream. 100gr
gelatine 25gr
Lemon juice 1hours.II
vanilla on the tip of a knife
For decoration::
almonds 20gr
banana 1-2pcs.
шоколадка 20gr
Method of Preparation:
First knead and bake the korge-base: eggs whisk with sugar (to double the mass), add baking powder, vanilla, stewed soda, softened smasking (butter 100gr), RUSK (you can take breadcrumbs) - mix it all up well. Then add kefir and small portions of flour. Let the finished dough stand for a minute 15. While you can prepare a baking tray (grease with oil), which should be mandatory with connector edges, diameter 26-28cm.
Bake the cake at temperature 180 degrees 40-50minutes. Then remove the sides of the mold (to cool down as soon as possible) and cool the pastry.
At this time, you can do Cream: rub the yolks until white with sugar and vanilla, add bananas, sprinkle them with lemon juice and turn into puree with a blender (or carefully brush up with a fork). Then add the cream and stir. In the glass pour a little boiling water (a third of a glass) and breed gelatin in it. Separately whisk into the foam two proteins and gently input them into the banana puree. When the gelatin is warm, pour it into our cream and mix well.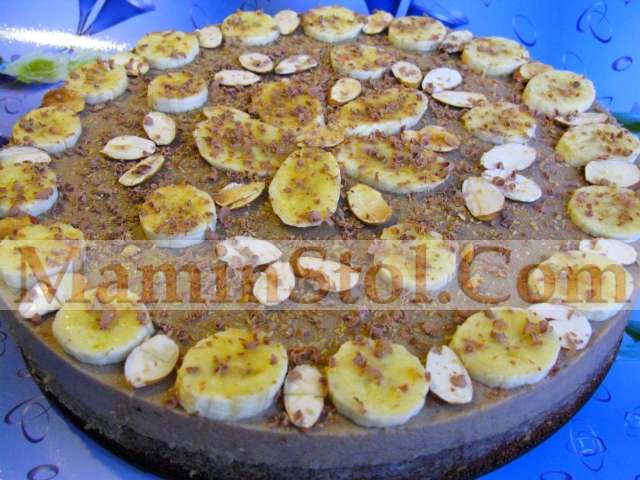 On the form with the cooled cake again put on the sides and pour the prepared cream. Put in the fridge on 2-3 hours.
Then decorate with grated chocolate, banana slices and almonds cut along in two.
Bon appetite!
Your comment will be published on behalf of '
Guest
'.
Login
here!