Cottage cheese
1100
06.12.2010 07:57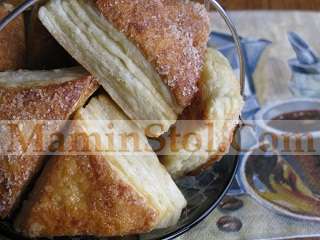 Great pastries for kids!
Such corners - fragrant, sweet, tender - children gobble up without persuasion. And we, mothers, are pleased that the children eat not only tasty, but also such healthy curd baked goods.
A good mom won't feed her "a treasure" empty test: you can always mix something useful!
So, let's prepare our kids healthy curd corners.
Essential Products:
cottage cheese 250d
dairy butter, 200d
soda ash (gash) 0,5hours.II
Wheat flour 2 cups
sugar 200d
Method of Preparation:
Chop butter with flour, add cottage cheese, soda - knead the dough. If there is time (it's always a big deficit for mom!), then it's good to lie down for an hour in the refrigerator... If not, then you can start cutting immediately: roll thick 0,5cm, a glass or a glass (suitable size as you wish) squeeze out circles. Separately pour sugar into a flat wide plate.. Dip a round cake in sugar, fold in half, then dip in a half circle and fold in half again. Dip the top of the resulting corner in sugar and place on the baking sheet the side without sugar.
Bake until browning over medium heat..
Bon appetite!
Your comment will be published on behalf of '
Guest
'.
Login
here!