Domashny
323
16.12.2010 21:31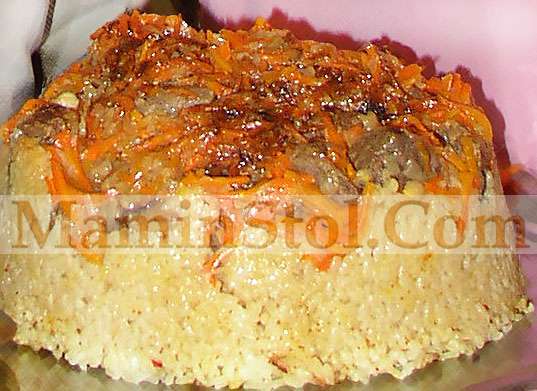 There are thousands of recipes for pilaf, but its distinctive feature is the combination of two components: так называемый «zirvak» in uzbek cuisine (meat, fish, game, vegetables and spices) and cereal (usually rice, but wheat, peas, corn, mung bean can also be used). As the Uzbek proverb says: «Poor man eats pilaf, rich man eats only pilaf», - she emphasizes the great taste of expensive food that only a rich person can afford every day.
Traditionally, in the East, men cook pilaf, but among us, Slavs, as a rule, a woman is engaged in the kitchen and let jealous gourmets forgive us - we will prepare this masterpiece with our female hands...
Please note:: we are cooking not rice porridge with meat, but a real pilaf!
Essential Products:
rice 1kg
carrots 1kg
onion 1kg
garlic 2Sockets
salt, black pepper, spices, bay leaf
meat (we have pork) 1kg
Vegetable oil 200d
dairy butter, 200d
Method of Preparation:
The first thing to do is to soak the rice in warm water (ratio of measure of rice and measure of water: 1:1). After that we prepare onions and carrots: we clean, wash and cut onions into thin half rings, carrots with beautiful straws. Now prepare the meat: in Central Asia meat is cut in pilaf by the number of family members (tons.е. a kilogram of meat per family of five is cut into 5 equal parts). We, too, will not grind it, otherwise the meat will dry out too much when frying. Immediately on the cutting table, salt the meat to taste.
A very important point - the choice of utensils for cooking. Not every modern family has a cauldron - an ideal container for cooking pilaf. You can take an ordinary metal pan, better nickel-plated, but not enameled - burns. If you still have a cauldron, put it on the fire and pour the vegetable oil plus butter.
A prerequisite is preliminary calcination of the oil, which we are waiting for (when salt grains enter the oil, there should be a characteristic crack). Then we put the meat and immediately mix it well. Fry meat over high heat 10-15 minutes, stirring often (if you have veal, it's better to add a little water and put out until the water evaporates completely). We fry the meat almost until ready. Then we send onions and carrots to the cauldron and fry until almost ready.
Add black peppercorns (20-25 grains,), spices, zira and barberry to taste. Turn down the fire. Salt rice with water (in which he was soaked) and gently pour it all into the cauldron. Never interfere.!!!
Now on low heat we cook pilaf almost until rice is ready. During this time we prepare garlic: we clean the teeth and wash. Then remove the cauldron (or pan) and wrap well. After half an hour, we open it with a long and thin wooden stick (we have cornel) we make punctures all over pilaf (Bottoms up!"), where to put fresh garlic (evenly distributing). Also invest 2-3 2 bay leaves (Justify). Gently close the resulting holes with the same wand. Fresh greens can be added to taste to the top.. Do it all quickly and again wrap pilaf. Let it brew for another half hour.
Pilaf turns out very tasty, crumbly and fragrant! When serving, open the lid of the cauldron (or pots), cover with a wide dish and, holding the bottom of the dish with your hand, turn the cauldron upside down (remember how in childhood you did the easter), then carefully remove it - pilaf will lie on a dish with a beautiful slide. If at the bottom of the cauldron there are few vegetables left - select them with a spoon and lay on top. Pilaf will keep in shape until the first touch.: when distributed, it appetizes crumbles!..
Bon appetite!
Your comment will be published on behalf of '
Guest
'.
Login
here!