Beetroot Cake
267
24.12.2010 08:12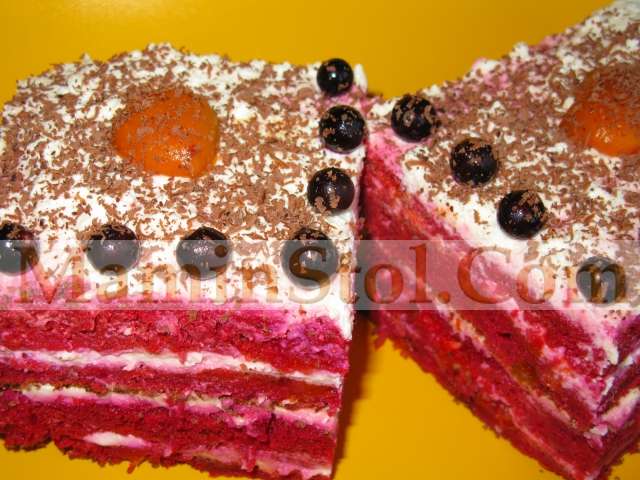 Let's cook our sweet tooth cake from... beets! Let yourself eat as much as you want - we will only be happy!
The cake turns out to be very bright and colorful, as well as tasty and healthy - and it would never occur to you that you can make such a treat out of ordinary beets! It's not a shame to offer such a cake to guests at the festive table! In addition to beets, we add the most valuable dried apricots and lemon to the dough. (or orange), to complement the flavor and vitamin composition. God bless you!
Essential Products:
beet 500gr
chicken egg 4pcs.
Granulated sugar 100gr
Wheat flour 150gr
dried apricots 100gr
Baking soda 0,5hours.II.
lemon (or orange) 0,5pcs.
vanilla
For cream::
cottage cheese 400gr
sugar 0,5 cups
milk 0,5 cups
sour cream 1St..II
Method of Preparation:
First we send the beet to the double boiler (cut into 8 PARTS LIST) for 25 minutes (either boil in water). Soak dried apricots in warm water on 10-15 minutes. During this time, we grind the yolks with sugar until white, then wash the dried apricots and cut it into small squares. In a separate bowl, whisk the squirrels in a thick foam.
Ready beets with lemon (chopped into large pieces) with a blender we turn into mashed potatoes. Add to the beetroot mass sequentially: yolks with sugar, dried apricots, soda (she herself will be extinguished by the presence of lemon in the dough), vanilla on the tip of a knife and flour. Mix well. Then gently inject the foam from the proteins and bake 30 minutes at 180 degrees.
Turn all the ingredients for the cream with a blender into mashed potatoes. Ready chilled cake to cut into two or four parts and spread with cream. Garnish as desired with nuts, berries, grated chocolate.
Bon appetite!
Your comment will be published on behalf of '
Guest
'.
Login
here!